Lifetime Access | 15-Day Refund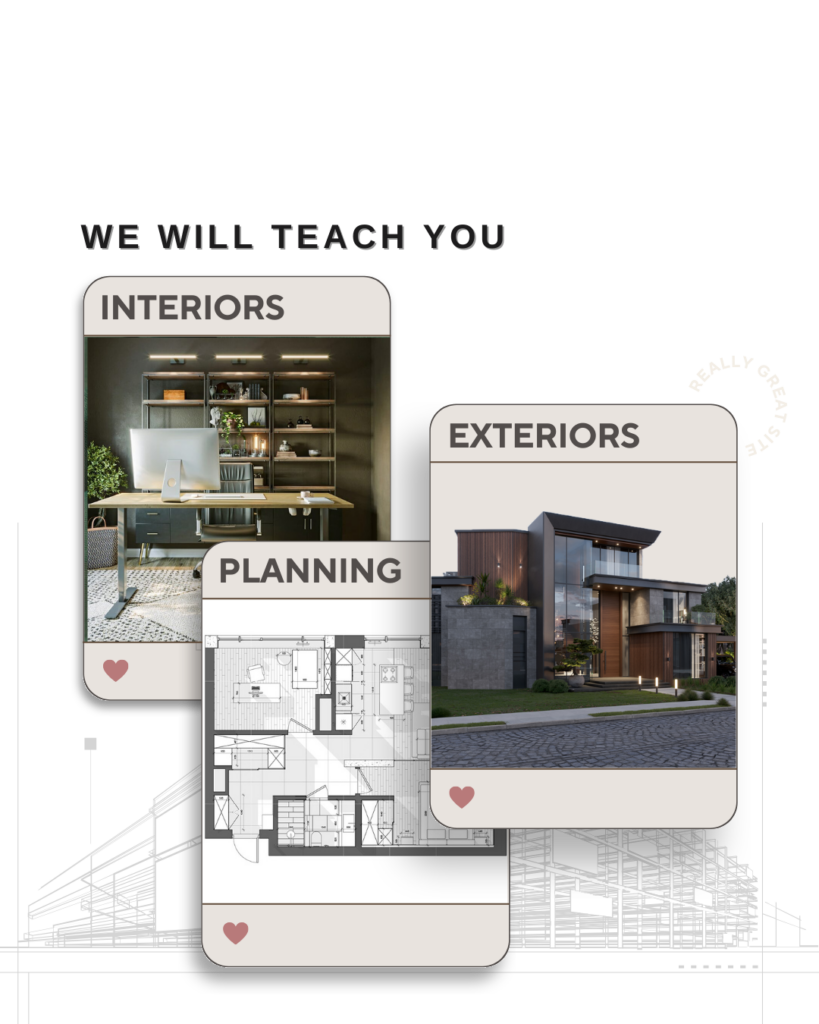 This course if for
Everyone
Interior Designers
Everyone
Architects
Everyone
Civil Engineers

Sketchup + Vray Course Topics
Introduction to SketchUp and Vray:

Overview of SketchUp and Vray
Installing and setting up SketchUp and Vray
Navigating the SketchUp and Vray interfaces

Basic 3D Modeling Techniques in SketchUp:

Understanding the 3D modeling process in SketchUp
Using basic drawing and modeling tools
Creating and editing groups and components

Creating an Interior Design in SketchUp:

Planning and setting up your interior design
Creating walls, doors, and windows
Adding furniture and fixtures to your design

Creating an Exterior Design in SketchUp:

Planning and setting up your exterior design
Creating building structures and landscape elements
Adding details like trees, plants, and outdoor furniture

Introduction to Rendering with Vray:

Understanding the rendering process in Vray
Setting up Vray for SketchUp
Navigating the Vray interface

Materials and Textures in Vray:

Understanding Vray's material and texture system
Creating and applying custom materials and textures
Working with Vray's material editor

Lighting in Vray:

Understanding Vray's lighting options
Creating realistic lighting effects for interior and exterior designs
Working with daylight and artificial light sources

Rendering Your Designs in Vray:

Setting up cameras and render settings for your designs
Creating high-quality renderings of your interior and exterior designs
Using Vray's post-processing tools to enhance your renderings

Best Practices for Designing and Rendering in SketchUp and Vray:

Tips and tricks for creating realistic and visually appealing designs and renderings
Optimizing your workflow for efficiency
Troubleshooting common issues in SketchUp and Vray
Autocad Course Topics
Introduction to AutoCAD:

Overview of AutoCAD
Installing and setting up AutoCAD
Navigating the AutoCAD interface

Basic 2D Drawing Techniques:

Understanding the 2D drawing process in AutoCAD
Using basic drawing tools like lines, circles, and rectangles
Working with layers and blocks

Creating a 2D Floor Plan:

Planning and setting up your floor plan
Drawing walls, doors, and windows
Adding furniture and fixtures to your floor plan

Dimensioning and Annotation:

Adding dimensions to your floor plan
Creating and editing text annotations
Using leaders and callouts to add additional information

Basic 3D Modeling Techniques:

Understanding the 3D modeling process in AutoCAD
Creating basic 3D shapes
Using the Extrude, Revolve, and Sweep commands

Creating a 3D Floor Plan:

Converting your 2D floor plan into a 3D model
Adding 3D details like furniture and fixtures
Applying materials and textures to your 3D model

Rendering and Visualization:

Understanding the rendering process in AutoCAD
Setting up cameras and lights for your 3D model
Creating high-quality renderings of your 3D floor plan

Printing and Exporting Your Floor Plans:

Setting up layouts for printing
Printing your 2D floor plans and 3D renderings
Exporting your floor plans and renderings for use in other software

Best Practices for Creating Floor Plans in AutoCAD:

Tips and tricks for creating accurate and visually appealing floor plans
Optimizing your workflow for efficiency
Troubleshooting common issues in AutoCAD

Final Project:
Applying what you've learned to create a complete 2D and 3D floor plan from start to finish
Lumion Course Topics
Introduction to Lumion:

Overview of Lumion
Installing and setting up Lumion
Navigating the Lumion interface

Importing and Setting Up Your Model:

Importing models from other software
Setting up your scene in Lumion
Applying materials and textures to your model

Creating the Environment:

Using Lumion's landscape and environment tools
Adding trees, plants, and other environmental elements
Working with Lumion's weather and lighting effects

Camera Techniques:

Setting up cameras in Lumion
Creating camera paths for your video
Using depth of field and other camera effects

Animating Objects and People:

Adding animated objects and people to your scene
Using Lumion's animation tools
Synchronizing animations with your camera path

Rendering Your Video:

Understanding the video rendering process in Lumion
Setting up render settings for your video
Rendering your video in Lumion

Post-Production:

Importing your rendered video into video editing software
Adding music, voiceovers, and other audio
Adding titles, transitions, and other video effects

Best Practices for Video Rendering in Lumion:

Tips and tricks for creating high-quality videos in Lumion
Optimizing your workflow for efficiency
Troubleshooting common issues in Lumion
Enscape Course Topics
Introduction to Enscape:

Overview of Enscape
Installing and setting up Enscape
Navigating the Enscape interface

Basic Rendering Techniques:

Understanding the rendering process in Enscape
Setting up a basic scene for rendering
Adjusting lighting and materials for rendering

Advanced Rendering Techniques:

Using Enscape assets to enhance your scene
Working with Enscape's real-time rendering feature
Creating panoramic and VR renderings

Lighting in Enscape:

Understanding Enscape's lighting options
Creating realistic lighting effects
Working with daylight and artificial light sources

Materials in Enscape:

Understanding Enscape's material system
Creating and applying custom materials
Working with Enscape's material editor

Post-Processing in Enscape:

Using Enscape's built-in post-processing options
Adjusting color, contrast, and other image properties
Adding effects like depth of field and lens flare

Animation in Enscape:

Creating basic animations in Enscape
Exporting animations for use in other applications

Best Practices for Enscape Rendering:

Tips and tricks for achieving high-quality renderings
Optimizing your workflow for efficiency
I am thoroughly impressed with the depth of knowledge these complete course offers. The architectural insights are invaluable. Kudos to the team for creating such a comprehensive guide. Highly recommended for anyone passionate about design.
This complete library of courses helped me transform my design sense completely. The ideas were practical and innovative. I am extremely happy with my purchase. Thank you for this amazing resource!
I recently purchased your course access and they have transform d my approach to design projects. The attention to detail in the interior design course is outstanding. I feel much more confident now. Thank you
This architectural courses exceeded my expectations. It not only explained the principles but also gave real-life examples. Exceptional content and beautifully presented. A must-have for architects.
Your courses provide a holistic approach to design. It's not just about aesthetics but also about functionality. I appreciate the emphasis on creating spaces that are not only beautiful but also usable.
I have been in the interior design industry for years, and your courses have refreshed my perspective. The innovative ideas have added a new dimension to my projects. I can't wait to see what you come up with next.
I am an aspiring architect and these courses have been my guiding light. The step-by-step guides are incredibly helpful. I can't wait to implement the knowledge gained. A heartfelt thank you
Your course are like a design Masterclass! The tips and tricks shared in the exterior design section were a game-changer for my home's curb appeal. I'm genuinely impressed. Well done
I bought these courses for my wife, an interior designer, and she hasn't stopped raving about them. The practical insights have added a new dimension to her work. We are both very satisfied customers
These courses not only educated me but also ignited a passion for design. The case studies were particularly enlightening. I find myself referring back to it often. Thank you for this masterpiece
Your courses have given me the confidence to renovate my entire home myself. The interior design concepts are explained so clearly, even for beginners like me. Truly grateful for this resource
I am a professional interior designer and I must say these courses are a game-changer. The advanced techniques shared are invaluable. My clients are noticing the difference. Highly recommended
These courses inspired me to revamp my backyard into a cozy oasis. The suggestions were not only practical but also aesthetically pleasing. I'm thrilled with the results.
I stumbled upon your courses while searching for design inspiration and I'm so glad I did. The variety of styles and designs covered is impressive. It caters to every taste. I'm a fan
Your courses are worth every penny! As an interior design student, I find the content incredibly informative. It's like having a mentor at my fingertips. I recommend this to all my peers.
I have purchased numerous design-related courses, but yours stand out. The attention to the cultural aspects of Indian design in your Sketchup Vray course is commendable. A delightful read.
I am an architect and I'm always on the lookout for fresh ideas. Your courses delivered just that. The creativity showcased is remarkable. I've incorporated some concepts into my recent project.
Your courses are not just informative but also visually stunning. The videos are of high quality and complement the content perfectly. I appreciate the effort put into the presentation.
I purchased your courses to get ideas for my new office space. The interior design suggestions were modern and chic. My colleagues are amazed at the transformation. Thank you for the brilliance.
The exterior design courses gave me innovative ideas for my restaurant's outdoor seating area. It's now a favorite spot among my customers. Your courses are a hidden gem in the design world.
© 2023 Avada. All Rights Reserved.